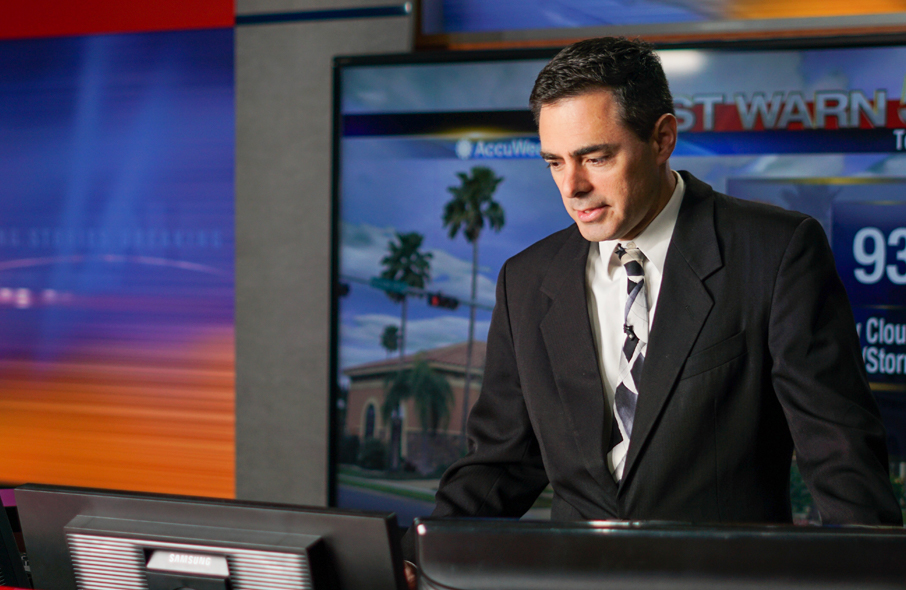 Alan Shoemaker
Alan has been a meteorologist at KRGV-TV since August of 2005. Before moving to the RGV, he shivered while forecasting the weather at WKOW-TV in Madison, Wisconsin and KECI-TV in Missoula, Montana.
Alan first broke into television as a part-time meteorologist for WTVA-TV in Tupelo, Mississippi. That job only paid $5.00/hour and was a 70 mile drive each way.
Alan has a passion for severe weather. He loves chasing storms and has seen 15 tornadoes. In 1995, he drove to coastal areas of Alabama to witness the landfall of Hurricane Opal. When Hurricane Dolly hit the Valley in 2008, Alan (and all of the First Warn 5 Storm Tracking Team) spent 37 hours at work tracking the storm.

Alan loves the outdoors, so you may see him biking around the Valley, hiking in nearby parks or wildlife refuges. He rain his first marathon in South Padre Island in 2015. Alan loves anything outdoors, so you may see him running on the 2nd street trail in McAllen. He also loves swimming, playing softball, volleyball, or baseball or pretty much anything outside. He loves traveling and often goes on hikes in other states. Alan has visited Iceland, Canada, France, and Mexico and is always looking to travel more in the future.

Alan is originally from Maryland and Pennsylvania and credits his early interest in meteorology from watching the weather on television with his grandparents when he was a child.

In 2017, Alan received a master's degree in public relations from Ball State University. If you see Alan with his camera, don't be freaked out. He loves shooting pictures and working with Photoshop and graphics.
Follow Alan