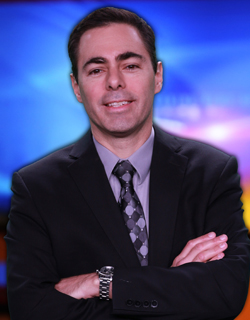 Alan Shoemaker
Alan became the weekend meteorologist for CHANNEL 5 NEWS in August 2005. He brings plenty of experience in weather forecasting to the Valley.
Alan studied meteorology and received his bachelor's degree from Mississippi State University in 1996. While in college, Alan first broke into television as a part-time meteorologist for WTVA-TV in Tupelo, Mississippi. That job only paid $5.00/hour. Alan obtained his first full-time job as the morning meteorologist for KECI-TV in Missoula, Montana in 1997. In 1999, he became the meteorologist for WKOW-TV in Madison, Wisconsin. He was awarded the National Weather Association Seal of Approval in 1999 after passing a written meteorologist test and submitting on-air work.
Alan has a passion for severe weather. He has been chasing thunderstorms and tornadoes since 1994, so far capturing 14 tornadoes on videotape. In 1995, he drove to coastal areas of Alabama to witness the landfall of Hurricane Opal.
Alan loves the outdoors, so you may see him biking around the Valley, hiking in nearby parks or wildlife refuges, and relaxing at the beach. Alan encourages everyone to take time to recycle their garbage so that we can keep the environment clean. He also enjoys kayaking, swimming, and playing softball, baseball, and volleyball. He hopes to attempt skydiving, scuba diving, and maybe some other fun activities in the near future. When not outside, watching movies is a good way to pass the time. He especially enjoys comedies and horror movies.
Alan is originally from Maryland and the Pennsylvania area, but is looking forward to not having to forecast snow and cold winter weather.
You can become a fan of the KRGV Weather team on Facebook and follow them on Twitter. You can also email Alan.