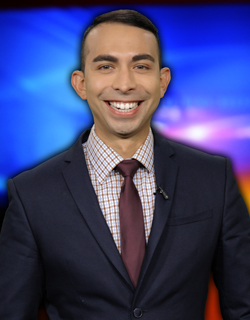 Joel Villanueva
Joel Villanueva is a proud native of the Rio Grande Valley. He's called the city of San Juan home for most of his life.
He graduated from PSJA. Joel attended the University of North Texas, where he received a Bachelor of Arts degree in Radio/Television/Film.
While in college, Joel interned with KDAF and WFAA in Dallas, getting the chance to cover all the major sports teams in the Metroplex (especially his favorite team, the Dallas Cowboys). Joel used that experience to start his own television sports career at NTTV, where he hosted a weekly 30-minute show called North Texas Sports Zone.
Joel earned a 2007 Lone Star EMMY for his sports reporting in college. In 2009, he received a Regional Edward R. Murrow award for his editing work on a Channel 5 News investigation. Joel was awarded Best Sports Story and Best Light News Feature by the Texas Association of Broadcasters in 2010. That same year, he also received Lone Star EMMA awards for his work in sports and general assignment reporting. In 2011, The Lone Star EMMY chapter honored Joel with a nomination in the sports feature category. Most recently, Joel won Best Sportscast at the TAPB awards.
Joel has stayed active in the Valley community, volunteering for The Sharing Basket every Thanksgiving, hosting events as a master of ceremonies, and speaking to aspiring TV journalists at local schools.
When he's not working, Joel enjoys going to the gym, reading, playing video games, and listening to live music.
Joel has a wonderful sister who lives in Houston.
If you know of a great sports story that needs to be told, feel free to contact him.