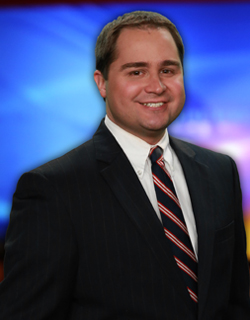 Matt Holiner
Matt was born and raised in San Antonio, Texas. His interest in weather began at an early age but was cemented after the historic 2005 hurricane season. From that point, he did everything he could to prepare for a career in broadcast meteorology.

As an undergrad at the University of Texas at Austin, Matt spent extensive time volunteering with student television and radio, in addition, to his studies in geological sciences. This experience helped him land internships at CNN in Atlanta, Georgia and KXAN/NBC 36 in Austin, Texas.

Matt continued his studies at Mississippi State University in Starkville, Mississippi, as a master's student in their broadcast meteorology program. He delivered online forecasts for Northeast Mississippi and also participated in The North American Collegiate Weather Forecasting Competition where he ranked 25th out of 2,019 forecasters in terms of forecast accuracy. During the summer of 2013, he had the opportunity to intern at The Weather Channel and learn from some of the best meteorologists in the country.

Matt landed his first on-air job at WWBT/NBC 12 in Richmond, Virginia in June 2014 where he served as their fifth meteorologist. From September 2015 until September 2017, he served as the fifth meteorologist at WXIX/Fox 19 in Cincinnati, Ohio and as the chief meteorologist at KYOU/Fox 15 in Ottumwa, Iowa. Matt was awarded the TV/Radio Seal of Approval by the National Weather Association and has covered all kinds of weather including winter storms, tornadoes, and hurricanes.

Matt joined the KRGV/ABC 5 First Warn Weather Team in November 2017. While his favorite hobby is storm chasing, he enjoys just about any other outdoor activity. He especially likes hiking, golf, fishing, and hunting. You can also find him cheering on the Texas Longhorns and Mississippi State Bulldogs or watching movies.
You can contact Matt through email.