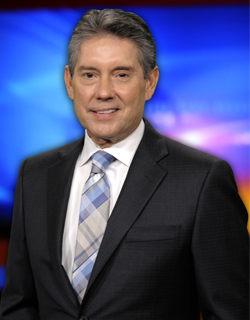 Oscar Adame
Oscar began his career in radio in 1977, working at KBFM. He joined KRGV Radio in 1980 as afternoon drive personality, eventually adding freelance voice-over and production talent work to his duties. During his years in radio, Oscar completed his studies at the University of Texas - Pan American, majoring in communications.
"One of the things I am proud of is getting my degree... it opened doors for me."
Oscar has held positions in public relations, marketing, sales and was also a business owner. All of the career moves he made gave him a chance to meet some great people and the opportunity to attain personal and professional goals.
"I enjoyed what I was doing... but deep down inside I missed broadcasting; it's always been a part of me. The Valley is so dynamic,you see the changes everyday. Living in one of the fastest growing regions in the country makes working at CHANNEL 5 NEWS even more exciting."
Oscar lives in McAllen with his wife Cris and three children. When he's not tracking down a story or on the set, Oscar enjoys cooking, especially grilling, camping, reading and spending time with family.