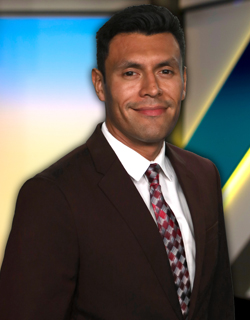 Rubén Juárez is a sports anchor/reporter at KRGV. He joined our station in April 2016.
Born and raised in Grand Rapids, Michigan, he attended Grand Valley State University in nearby Allendale, Michigan. He graduated with a bachelor's degree in broadcasting.
Rubén was a sports anchor/reporter at WLFI-TV in West Lafayette, Indiana before he came to the Valley. During his time in the Hoosier State, Rubén covered Purdue University and local high school sports. Whether it was covering a Boilermaker game at another Big Ten university or covering high school state championship games, Rubén had many exciting experiences while in Indiana.
His broadcasting career began at WOOD-TV in his hometown where interned in the sports department. The internship led to a part-time job as a sports photographer.
Rubén enjoys living in the Valley, he especially likes the food. He's always up for a bowl of caldo de res. He is very excited about not having to deal with cold temperatures and snow anymore!
In his spare time, Rubén enjoys listening to all kinds of music, especially rock. He loves watching sports on TV. Growing up, he played soccer and basketball.
Rubén's favorite sports team is the Mexican national soccer team.
His favorite athlete is Brazilian soccer player Ronaldinho.
If you have an interesting story for Rubén, feel free to email him at ruben@krgv.com.