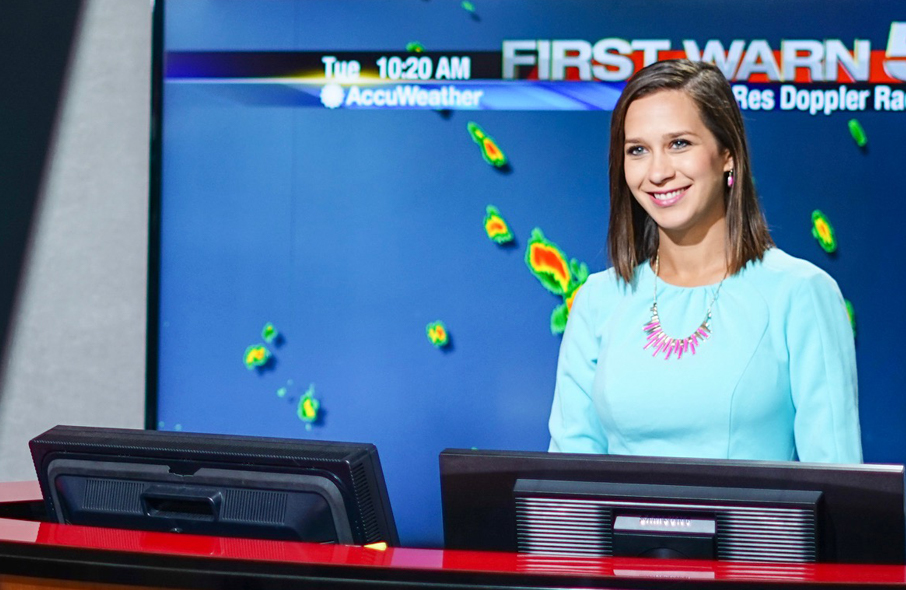 Cecilia Gutierrez
Cecilia is a valley native from McAllen and attended McAllen High School. Cecilia is a graduate of the University of the Incarnate Word in San Antonio where she obtained a degree in meteorology.
While in college, she was an active member of the marching band serving as the school's first female drum major for three years. She was also the principal oboe player for two years in the universities wind ensemble where she earned various awards for leadership and musicianship.

Cecilia likes to give back to the community. She credits a big part of her volunteer work in college to her sorority, Alpha Sigma Alpha. Through ΑΣΑ she served as Vice President of alumnae and heritage and the Vice President of the University's Panhellenic council. Her volunteer work focused on empowering young ladies to become interested in the fields of math and science. She didn't stop there. Cecilia was also the captain of the schools fencing team earning an NCAA Division I regional qualification in Sabre. In 2017 she was nationally recognized as one of Alpha Sigma Alphas 30 under 30 up and coming women in society.

In July 2017, Cecilia joined the CHANNEL 5 NEWS team as a reporter. She's covered stories across the valley including hurricane Harvey, a rare snow fall, big court cases, and the border wall.

In February 2018, Cecilia stepped in front of the green screen at KRGV for the first time.

When Cecilia isn't looking for the next big story or forecasting the weather, she enjoys volunteering as a math and science tutor. She has also kept up with her musical roots by volunteering with McAllen High School's marching band during the fall.

Cecilia grew up watching Channel 5 and is excited to be home contributing to the news team.
Follow Cecilia